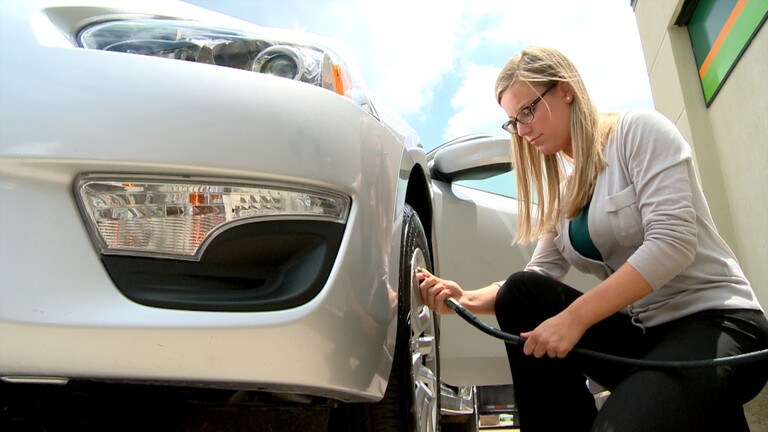 This week, May 29 through June 4, is National Tire Safety Week and Nissan is celebrating by reminding vehicle owners how important it is to having properly inflated tires keep your vehicle safe while on the road. According to the federal government, a tire that is 25 percent below its recommended pressure is almost three times more likely to be involved in a tire-related crash than a properly inflated tire. In addition, in the end, an improperly inflated tire results in premature tire wear, as well as reduced fuel economy.
Drivers should check their tires monthly and inspect them for unusual anomalies. Here are six tips to keep in mind when maintaining and caring for your tires.
Make sure to visually inspect your tires and look for under-inflation, damage or uneven wear.
Find and adhere to the manufacturer's recommended tire pressure, which is located in the vehicle's driver-side door jam.
Tire pressures are known to fluctuate with temperature changes, so drivers should check their tire pressure when tires are cold at least once a month, as well as following any significant changes in temperature.
In order to achieve maximum tire life and performance, rotate them every 5,000-7,000 miles.
Avoid loading tires past their recommended rating, since excessive weight can weaken tires and lead to potential blowouts.
Make sure to steer clear of large potholes, curbs or other objects when possible to avoid potential tire damage.
Most Nissan vehicles can help you gauge your tire pressure with the Easy-Fill Tire Alert system. As the driver fills the tire, the car's four-way flashers light up to confirm that air is going in properly. When the tire is full, the horn chirps to let the driver know the process is complete. If the driver puts in too much air, the flashers blink faster and the horn beeps three times.
To learn more about proper tire safety or to schedule an appointment to replace your worn tires, schedule your appointment online today at Crown Nissan of Greenville.