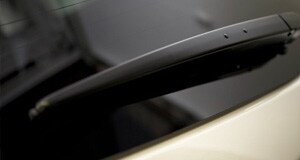 The summer rains are on their way. The worst thing is to be our driving, get caught in a sudden summer rainstorm and have your windshield wipers not work properly, therefore causing you not to be able to see. Make sure you are ready ahead of time and replace those wiper blades to keep them in good working order.
At Crown Nissan of Greenville, which services the Greenville, Anderson, and Greer areas, we can make sure that you are back on the road, safely, and in no time, with windshield wipers that are effective, and provide you with maximum visibility. Windshield wiper blades should be replaced every six months to a year and here at Crown Nissan of Greenville, we have the best options of Nissan wiper blades at the best pricing in the greater Greenville area.
There are many causes that affect your wipers ability to work properly, including sun; rubber-deteriorating oils; airborne debris; acid rain and salt water.
When inspecting your wiper blades to check on their effectiveness, you want to make sure to look for the following issues:
Broken frame – detachment of frame arms at joints or connection points.

Visible cracks, tears, and missing pieces in the rubber squeegee's edge.

Metal Corrosion – especially at joints and claws.

Flex rubber squeegee back and forth to see if it is still flexible.

Tug to ensure wiper blade has been securely installed on the wiper arm.

Check squeegee wiping edge for rounded edges which can prevent the wiper blade from making strong contact with the windshield and reduces wipe quality.

Check that squeegee is secure in the wiper frame.
If you are in need of new wipers, look no further than Crown Nissan of Greenville. Our skilled service department technicians will be able to replace your windshield wipers with Nissan OEM certified blades. Schedule your appointment today to get the best wipers that your money can buy, and will help you stay safe this summer.