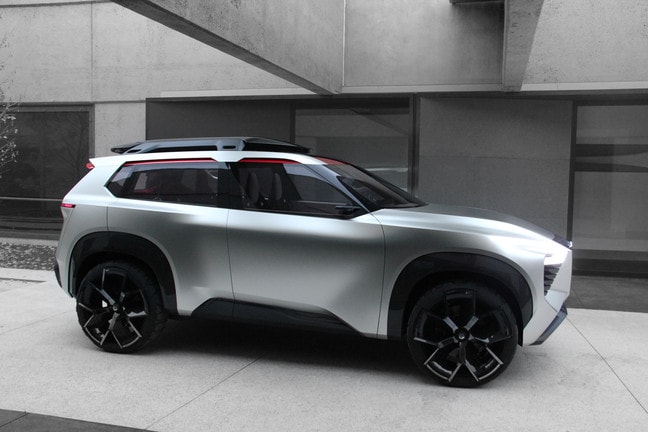 Nissan recently revealed a revolutionary concept - the Xmotion. This concept features a design exploration for a potentially groundbreaking compact SUV.
The Xmotion (pronounced "cross motion") is a six-passenger, three-row concept that made its debut at the 2018 North American International Auto Show in Detroit. The concept fuses Japanese culture and traditional craftsmanship with American-style utility and new-generation Nissan Intelligent Mobility technology.
The Xmotion concept exterior is visually simplistic yet is contrasted by the rugged, metal-crafted wheels and all-terrain tire design. Like the rest of vehicle, the mechanical tool-inspired wheels and all-terrain tires coexist as one piece, with the tire tread physically laminated over the 21-inch aluminum-alloy wheels. Additional exterior features include a retractable "rooftop box" and a unique tail light design inspired by Japanese woodwork. It also features a powerful dynamic presence and understated sculptural beauty, including unique U-shaped highlights and a bold evolution of Nissan's signature V-motion grille.
The interior itself was created with the imagery of a river on the floor, with the center console acting as a bridge. The console, the core of the interior design, uses a traditional Japanese architectural wood joinery technique, kanawa tsugi, found in the carpentry used to build religious temples and shrines.
Featuring three rows of side-by-side individual seats, the Xmotion concept's interior is designed to provide a perfect space for a young couple, another couple and two children or pets in the third row.
As far as the instrument panel design goes, the Xmotion concept is a modern interpretation of traditional kigumi wood joinery. By using the kigumi structure in the instrument panel and console, the vehicle's interior suggests a robust bone structure, creating a sense of strength and trust.
The concept's interior includes a total of seven digital screen portions. Three main displays and left and right end displays span the width of the instrument panel. There's also a "digital room mirror" in the ceiling and a center console display. And what's even cooler? The displays and infotainment system can be controlled by gestures and eye movements. Intuitive controls and a voice command system allow drivers to focus on driving, helping them access various information in a smart, easy and safe manner.
With a combination of technology and style, the future of Nissan is getting even more exciting. The Xmotion is a signal of the future design of Nissan vehicles.