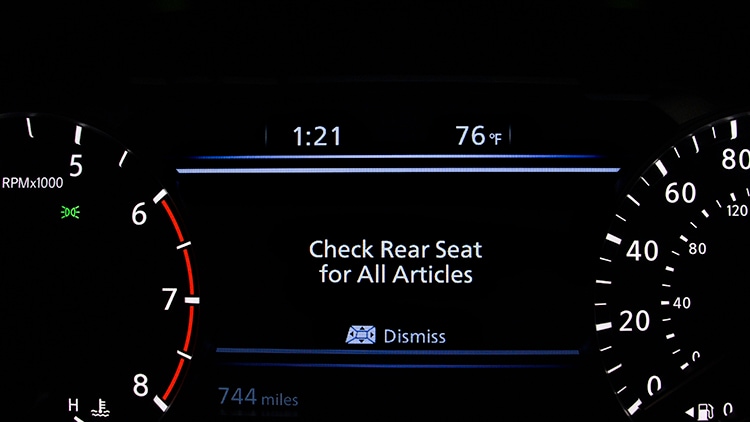 Keeping safety in mind, Nissan is moving forward to make Rear Door Alert technology standard on more models. This is all being done with the purpose to remind drivers to check the back seat and help reduce potential incidents. Rear Door Alert reminds owners to check the rear seat when exiting their vehicle by using a series of distinctive honks as the driver walks away from the vehicle. Nissan is the first automaker to use a honking horn as an alert for this type of feature.
"I'm proud to see Nissan lead the way by making Rear Door Alert standard on more models," said Marlene Mendoza, a mechanical engineer who helped create the technology. "What started as a chat with my colleague, Elsa Foley, is now innovative technology being adopted in more Nissan models. It is a testament to Nissan's culture. The idea was inspired when I accidentally left a pan of lasagna in the back seat of my car overnight," added Mendoza, a mother of three, who was pregnant when the idea struck. "The worst thing was the car smelled for days, but it made me ask myself, 'What if I left something far more important back there?'"
The Rear Door Alert technology, which is currently standard equipment on the 2018 Nissan Pathfinder, monitors when the rear door is opened and closed before and after the vehicle is in motion. The system will then respond with a series of notifications if the rear door was used prior to someone driving, but was not re-opened after. Once the vehicle is in park and the ignition is turned off, the system will at first display a notification in the instrument panel. It will then progress to subtle, distinctive chirps of the horn if the door is not opened.
"If you open a rear door and put something in the rear seat, Rear Door Alert will help you remember when you get to your destination that you may have forgotten it," Mendoza said. "By drawing attention back to the vehicle while the driver is walking away, the honking alerts you to recheck the back seat in addition to visual or interior audible alerts."
Want to learn more about this incredibly helpful safety measure? Contact us at Crown Nissan of Greenville today.